pre defined wooden stripes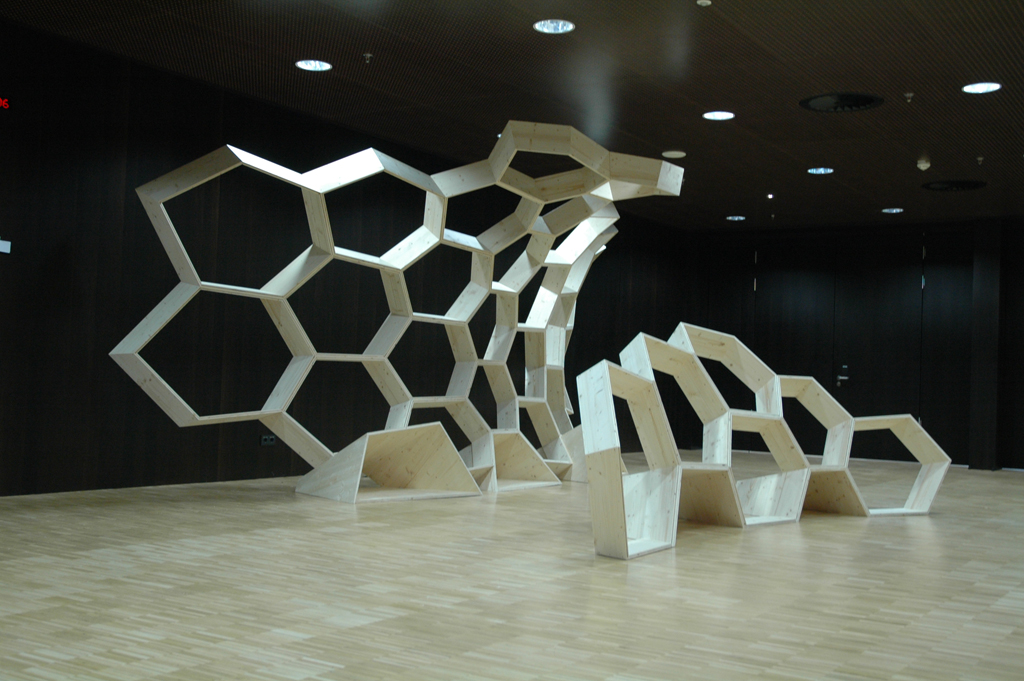 In 2012 Rupert Maleczek was invited to design and fabricate a research based exhibition object for the special exhibition entitled young talents. Based on his research on linear folded stripes, he designed a bar-like object based on a rotational geometry. The structure was designed and develloped in only 4 days and built in less than a week. The single pieces were fabricated and assembled by Klaus Oberwalder, Clemens Jenny and Guenther Toepfer. The exhibition was curated by Eric Sidoroff.
This project is one demonstrator  in the research on linear folded stripes. The structure is made from 18mm wooden folded stripes, All th stripes have mitre-joints with an angle of 60 degrees. The idea behind this prototype was to proof, that a three dimensional hexagonal structure can be created with only one single mitre joint. This allows a simple production on a simple circular saw. The structure that exhibited, was only a part of the planed structure that is in production at the moment.
The structure is developed as rotational body. This allows a production of the whole structure with only five different modules.
The exact geometric constraints were presented at the AAG 2012 in Paris, and can also be found in the phd thesis of Rupert.